About Me & My Process
Jack of All Trades, Master of None
I have always felt like I can be good at many things if given enough time to learn the skill, but I don't feel like I've ever mastered anything. I've been crafting with my hands since I was little, and have always found joy in creating something from scratch with my own two hands. I enjoy the tactile qualities of sculpting – the soft give of clay to the solid fired pieces; the soft wool to the rigid felt that tells a story with the textures of the fibers.
After years of working in clay, I was drawn to wool because the medium compliments the animals that I was already making in clay and with crochet. I have found the challenge of manipulating the wool to be both fun and frustrating. Unlike clay, wool is a bit more unforgiving and has unique properties that take a bit of patience to learn.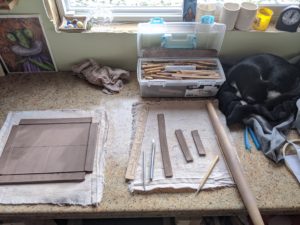 Sculpting in Clay
Form and Function
Playing in clay brings back our earliest memories of tiny hands sunk deep into colorful doughs and creating magical creatures and made up worlds. I find the process of taking something malleable and turning it into something permanent both magical and mystical. I love how easy it is to shape the clay; the way it responds to one's hands. I have experimented in both sculptures as well as functional pottery, and often overlap the two.
If you are interested in buying some of my work, check out my two Etsy shops where I have my clay work: Mudd Puppy Pottery and Bellyrinas
Sculpting in Wool
Fluff and Felt
There are two major processes used to create felt – needle felting, and wet felting. Needle felting, or dry felting, involves taking a special needle with tiny barbs and stabbing it into a ball of wool which then tangles the fibers and helps them hold together and form a shape. Pieces can be "stitched" together in this way without any actual sewing, and various fibers can create textures mimicking fur or hair.
Wet felting is the process of laying out fibers on a flat surface and wetting them down with some soap and water before gently rubbing them. The agitation eventually causes the fibers to come together in a permanent manner and felt is created. Sculptural forms can be created in this manner by using resists between layers of wool to create a space that is later opened up as a hollow form to either be stuffed or left as is.
You can find some of my wool work for sale at White Oak Creations on Etsy.